Summer Camp
Innovation Camp Registration Opens April 11th
Children are presented with fun indoor and outdoor activities, hands-on challenges that encourage creative problem solving, teamwork, and innovation. Grouped by grade and nurtured by our incredible staff, campers take on art, science and outdoor activities tailored to their level.
This camp will be held at the Whitewater High School during the time of Summer School and in the Art Studio of the Downtown Armory Basement, located on the lower level. You must register for the entire week, with maximum participant number of 25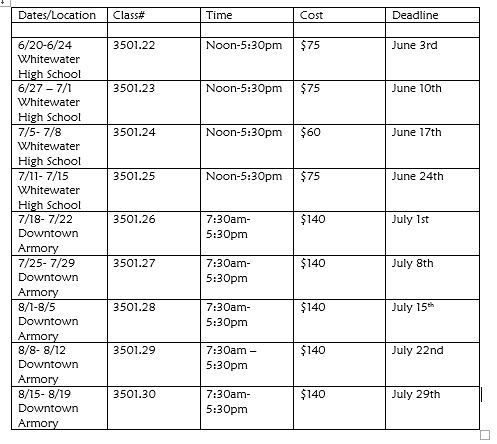 The "Need to Know"
Get ready for a GREAT summer!
Camp runs Noon- 5:30pm

and is located in the PE Classroom at the High School. Please have your camper come to this room right after summer school, we will all adventure to lunch together. We will have staff located by the cafeteria to help campers find the classroom.

Pick Up

: Please use Door #4 (located off the cafeteria). After entering the door, take a left down the first hallway, follow the hall until almost the end, take a right and the PE classroom is located on the left. The program will try and use the cafeteria for easy pick up and better cell phone reception.

Program Cell Number

: 262-903-9533. Please utilize this phone number if you need to located the program participants, can't access the pick up door, or your camper will be missing from the program that day. Please remember the High School is made of concrete and sometimes has challenging cell phone reception.

Adventures

: ** Please be sure to allow yourself enough time for pick up if you have obligations to attend right after camp. Pick up can take a few moments.

M, W, F

: Campers will enjoy activities within and around the High School. Please note the campers may not always be in the building, and could be enjoying a sports field. If you do not see your camper, please give the cell phone number a call to located them. 262-903-9533.

T & R: Swimming

: Campers will get the fantastic opportunity to utilize the Aquatic Center starting at 1:30pm. (We will be sure they eat lunch and have time to rest before hitting the pool) .

Please pack all swim attire for your camper to enjoy the pool. Changing will take place at the High School before we leave for the pool

PLEASE let us know if your camper can not swim or is hesitant in the water! Staff will be in the pool along with lifeguards. Campers will not be allowed in the hot tub, but will be allowed on the slide and in the lazy river. It is very important that we know if your camper can not swim so we can manage their enjoyment location.

Campers personal belongings will be located on the pool deck and not in the locker rooms. Please be sure to allow yourself enough time for pick up to get your camper changed. Staff are asked to be in the pool and not to have campers ready at specific times and ready for pick up.

Campers can be picked up at anytime up until 5:30pm. Please enter the Aquatic Center and let them know your with Summer Camp, they will allow you into the pool for pick up.

Snacks

: We will provide snack (similar to the After School Program) daily. These snacks will be brought to the pool on our swim days, please do not send money for concessions.

Shoes:

We walk…a lot…flip flops are great-sometimes shoes are a good thing, too.

Sunscreen:

The kids will have it on them every day if you so choose. It would be greatly appreciated if you would send a labeled bottle for your camper. We lather it on as much as possible!!

Water Bottle:

As often as possible please send a labeled water bottle with your camper.
We are truly excited for a great summer! You will receive these emails weekly to help keep you updated on everything happening. If you have any questions, please do not hesitate to contact me. My cell number is 262-903-9532.